What is a ChexSystems Report? How Do You Clear Up Your ChexSystems Record?
Daniel Long
Updated May 19, 2022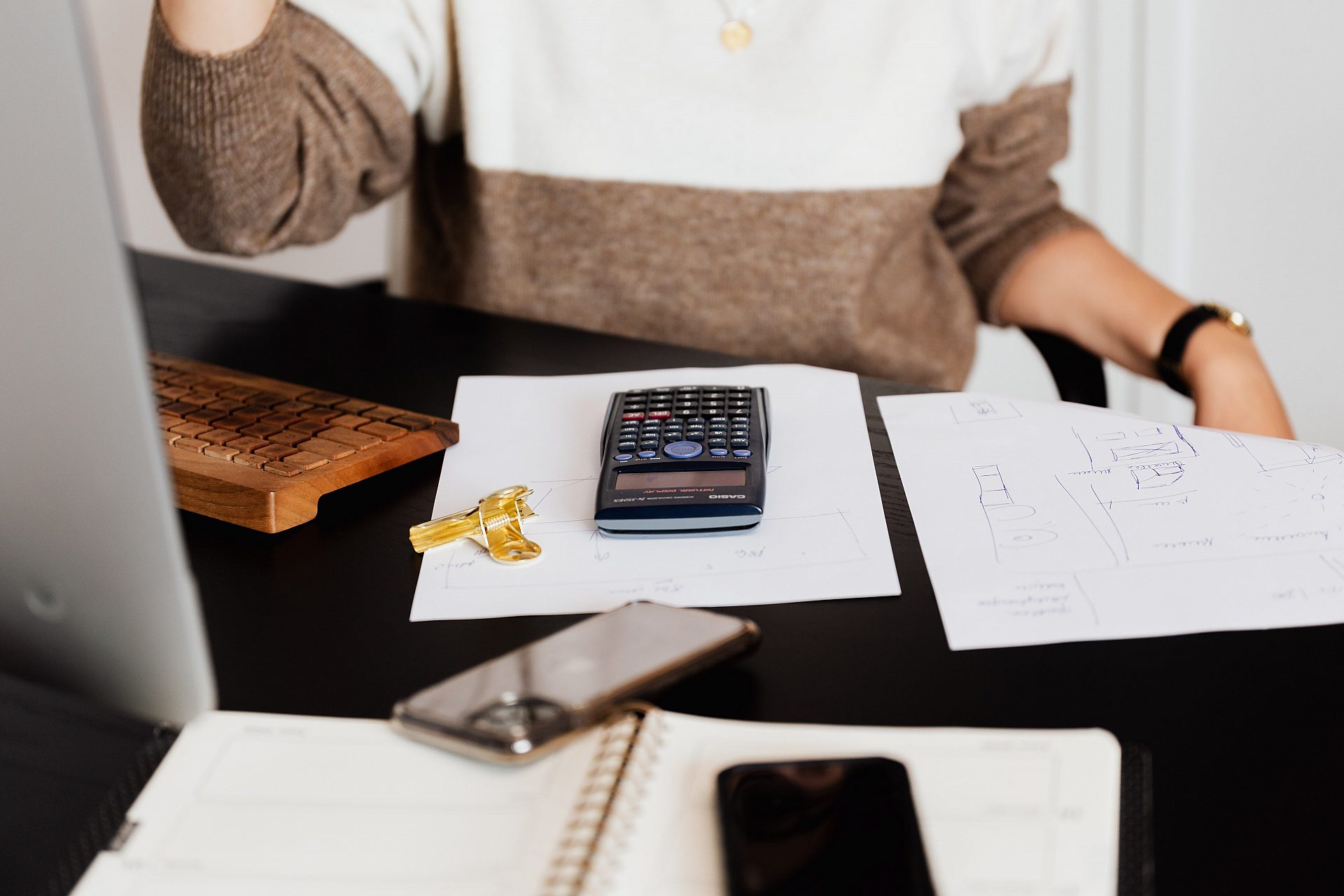 What is ChexSystems?
ChexSystems is the largest consumer reporting agency in the United States used by banks, credit unions, and other financial institutions to track customers when they apply for a bank account.
It was created back in 1971 and has become a go-to service for about 80% of financial institutions across the country. Even though there are so-called second chance banks that don't use ChexSystems, it's quite difficult to open a checking or even savings account if you have a bad consumer report.
ChexSystems serves banks, not regular people, by sharing with them mistakes you have made over the last five years.
What Does It Mean When You Are in ChexSystems?
If you are in ChexSystems it means that at some point you have made one or more mistakes reported by your bank or other financial institutions. This refers to:
Unpaid bank fee – not every financial mistake like this is reported, but having a bad habit of forgetting to pay off your fees, even if it happens from time to time, is a guarantee of getting into the ChexSystems database;
Account misuse – this refers to allowing other people to use your account for one or another reason, paying for products and services not meeting the requirements, purchasing with no funds available, etc.;
Suspected fraud – even if you are a 100% honest person, you can be reported if there is some evidence of criminal activity involving your bank account;
Involuntary account closure – even though there are laws that prevent financial institutions from closing their customers' accounts, they do it. The point is that if your bank has closed your account, they must have found some reason for that. You might have already forgotten about your negative balance but the financial system is only not you and your bank. A third party is involved, and this 'third party' is the source of information for over 80% of participants in the banking system.
Too many bank accounts opened in a short period of time. Opening over 10 checking accounts in a year is bad for your ChexSystems score. Also, it leads to having too many inquiries in your report. The reason is that banks are trying to prevent freebie seekers from opening multiple accounts to get rewarded with bonuses;
Split transactions – cash transactions over $10 thousand are reported to the IRS (Internal Revenue Services). It's never a problem if you can confirm the legitimacy of your money. The problem is when you have to cash in, say, $22 thousand and split this transaction into chunks ($8 thousand yesterday, $10 thousand today, the rest tomorrow). This may be considered a split transaction and can be reflected in the statements.
The way ChexSystems runs its business doesn't make most people happy. From time to time this approach is called unfair. For example, long ago, in 1991, Santa Cruz Sentinel quoted Max Foster, a policy analyst at Consumer Action at that time who said that 'there is no distinction between a criminal and someone who has bounced three bad checks'.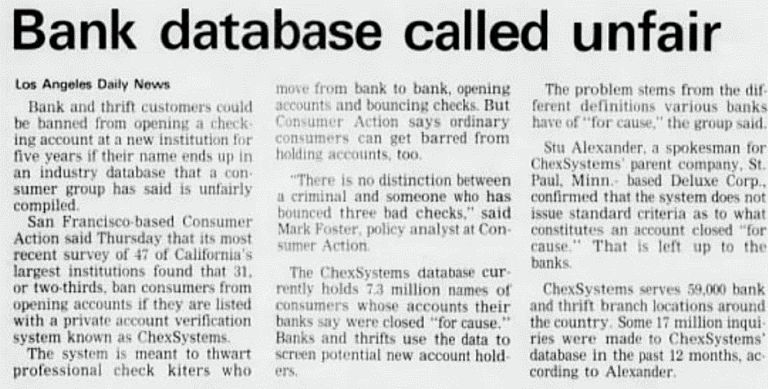 Thirty years have passed, but nothing has changed.
There is no official list of items that banks report to ChexSystems, but the fact remains, if you find yourself in this database, you're not alone. There are over three hundred million consumer reports in this humongous database.
What is a ChexSystems Report?
A ChexSystems consumer report is a file (either electronic or paper) that contains all bad records reported by banks. No good information is stored, only mistakes you've made over the past five years. Yes, this is how long they stay in your report regardless of whether they are soft or hard. Compare this to credit inquiries that stay on your credit report for only two years before they fall off.
It contains your personal information including name, date of birth, and a set of records.
Your report looks like this: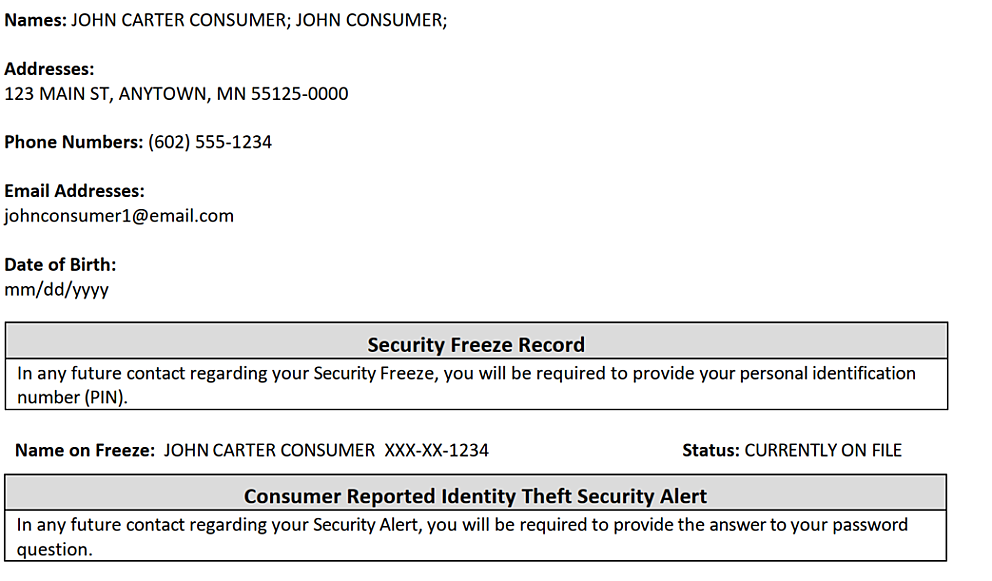 Consider the following inquiry:

The customer must have initiated a check cashing transaction which was reported by a local store.
Inquire dollar amount is $87. The information in this report provides the way to solve the problem – you can contact the inquirer, in this case, a local store. If it were a real report, we would see the name of an organization.
You can find a sample consumer report by following this link.
What is a ChexSystems Score?
An important characteristic of every customer is their ChexSystems score. In some cases, you can find it in your report, but oftentimes the company shares it only with an institution that makes a request. It's kind of B2B (business-to-business) data.
You have all the right to know it. But typically, customers will know this value when they get rejected by a bank when opening an account. There are multiple discussions on CreditBoards.com like this: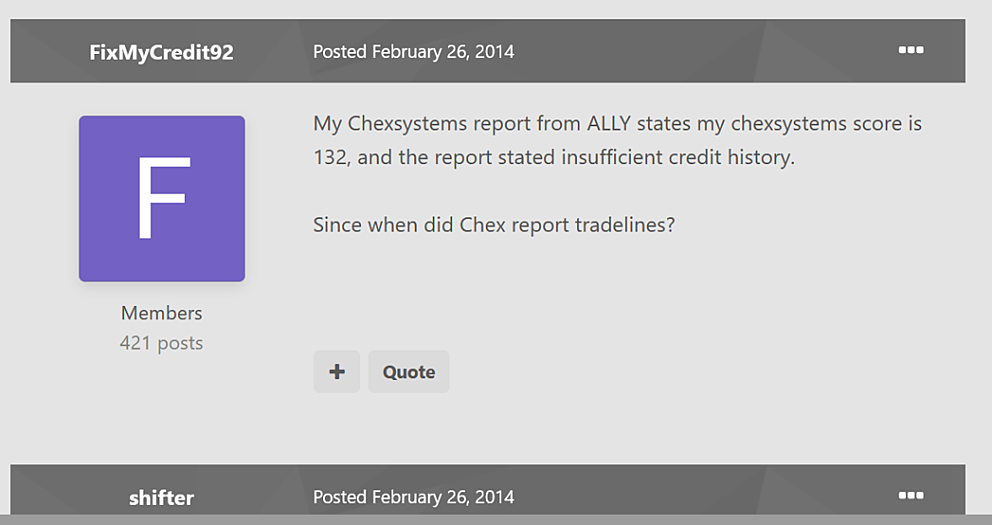 Once you know your credit score, you can get an idea of what banks and credit unions think of you as a customer.
This number ranges from 100 to 899. If your score is low (100-300), it represents higher odds of future default. A financial institution will most likely refuse to open an account for you. If your score is high enough (over 600), it is a good sign representing low risk and lower odds of future default.
A ChexSystems score is a relative value, which means no one knows for sure what is good and what is bad. There is an opinion that, for example, a 545 score may be good for one bank and bad for another. So, you should always try to keep your score as high as possible.
According to MyBankTracker, 581 or better is considered a 'safe score', which means that most financial institutions will likely approve your application.
Not everyone has a ChexSystems score. There may be several reasons for that:
New customer (a young person or an individual who for one or another reason has been unbanked for some time);
Perfect customers – an individual who has never made any mistakes.
Also, if you find that your score is a four-digit number like 0457, just remove the zero: 0457 = 457.
How Do You Request Your ChexSystems Report?
You have the right to request your consumer report once a year absolutely for free. ChexSystems is obligated to provide you with it without any questions. The only requirement is, you have to request it properly in one of several ways.
Call 800-428-9623. This is an official ChexSystems phone number. You will not speak to a live person, but you don't need it. An automated voice messaging system will ask you all the questions needed to request your report.
Fill out the Consumer Disclosure Form at the ChexSystems official website. This is the easiest and the fastest way. You can do it at any time using your iPhone, laptop, or any other device. You will have to agree to the terms and conditions, verify you're 18 or older, fill out your personal information (name, date of birth, SSN, current address, previous addresses you've lived at over the last five years). After that submit your data and wait for an answer.
Send a paper request. To do this, you can download the Consumer Request for Disclosure Form, fill it, print it out, and send it by mail:
Chex Systems, Inc.
Attn: Consumer Relations
7805 Hudson Road, Suite 100
Woodbury, MN 55125
Request your report by fax. Download the Consumer Request for Disclosure Form, fill it and fax it to 602-659-2197.
Regardless of which way you use, the result is the same. You will get your consumer report within five business days.
In some rare cases, you may be waiting for your report longer. Checking Expert recommends that you get your report through mail or by fax. The reason is that officially ChexSystems has as many as 45 days to send your FACTA Free Annual Report if it was requested online, and only 30 days if you ordered it by fax or through the mail.
How Do You Clear Up Your ChexSystems Record?
So, you ordered your report, received it, and realized that there were some mistakes that you didn't make.
No need to worry, because it's one thing to pay off your debt, and quite another to fix the mistakes made by either your bank or ChexSystems.
It makes no sense to dispute your report if it contains a record of unpaid debt until you pay it off.
The best way is to find the name of an organization that has reported to ChexSystems and get in touch with it as soon as possible.
Your bank already has your data and other information. You can call them, but it's always better to talk to a representative in person. Just show them what is wrong and ask about the reason the information got into your report. If the bank admits its mistake, ask a representative to inform ChexSystems without any delay.
The problem (as well as an advantage in this case) is that ChexSystems believes that banks and other institutions' information is always accurate.
How Do You Dispute Your ChexSystems Consumer Report?
But what if you found an error that the bank has nothing to do with or you simply have no idea how it got into your report? It's not your job to get in touch with a service you've never been served by, especially if it is located in a city or state you've never been to.
Time to send an official letter to ChexSystems, in other words, dispute your ChexSystems consumer report.
According to The Fair Credit Reporting Act, you can request an investigation in case you find any errors in your report that you believe were mistakenly put into it.
The most important part of this process is sending the correct letter (or letters). It's no rocket science but ChexSystems doesn't provide you with easy-to-fill forms or something like that. So, you have to design them on your own.
In our ChexSystems Removal Kit that you can get right now, we provide you with different types of letters designed for solving different situations.
Again, it's not that difficult to compose a letter on your own, but it's always better to use examples that have already helped many people to clear up their ChexSystems records.
In case you've noticed a debt that you are not familiar with, the letter may look like this:
To Whom It May Concern: I've ordered my free report and noticed that BankName has listed unpaid debt on my ChexSystems file, dated August 31, 2021.

I have never been a customer of BankName and I have no idea how this data got into your database.

I have already requested full validation from BankName, especially copies with any documents with my signature. The bank replied that it had no such information and had never reported to you any information about me.

I am attaching the screenshot of their message and am in the process of obtaining a paper document.

Therefore, I request that this information be removed from my report.

To increase the chances of getting a positive response, you have to add supporting documentation.

Send your letter with U.S. Postal Service to this address;

ChexSystems Consumer Relations

7805 Hudson Road

Suite 100

Woodbury, MN 55125
Mistakes to Avoid While Disputing Your Consumer Report
Don't use emotional language. Your letter is an official document that must be reviewed and accepted, but only if it is properly written. Any rude words, expressions, grammar mistakes, unnecessary exclamation or question marks can lead you to no answer at all. Use plain English. In other words, be clear and concise.
Don't provide unnecessary information that has nothing to do with your problem. For instance, you may be an honest person who has several hundred thousand dollars in a savings account and a half of a million invested in stocks, but this has nothing to do with an unpaid fee reported by a credit union. It's better to pay off your debt as soon as possible, get a document, and attach it to your letter.
Don't send multiple letters. One letter is quite enough, even if there are multiple records you want to be deleted.
How Are Bad Records Removed From My ChexSystems Report?
Once ChexSystems receives your letter, they check if it is written correctly. After that, they send an electronic request to a bank or credit union to check if the information is correct.
If a financial institution responds that the information is correct, it becomes ChexSystems' job to obtain a copy of the documentation and provide you with it. Remember, you must ask for this in your letter.
In case ChexSystems does not obtain any official documents, it must remove a particular record from your report. This is a requirement of The Fair Credit Reporting Act.
Law is on your side. Even if you have a negative balance or something like that but the bank refuses to provide ChexSystems with official proof, it is required to remove this information from your report.
Even though neither the bank nor ChexSystems have any reasons to make you guilty for any reason, sometimes it takes long weeks and months to clear up your record.
What does a Bad Consumer Report Affect?
Many people don't even know that ChexSystems exists. They just use various banking services and are happy with it.
But many of them occasionally find out about its existence because they get rejected by the bank.
So, what exactly does your consumer report affect?
If your score is too low, and you have a bad report, you won't be able to open a checking account. This is not necessarily the rule, but jumping from one bank to another makes you lose your time. Being rejected and disappointed is also not what you are looking for, isn't it?
Opening a savings account can also be quite tricky.
Having a bad report can put you into 'ChexSystems jail', which means you will be experiencing different problems. Consider what happened to a myFICO member because of 'too many recent inquiries'.
Since being unbanked is not what you are looking for, you will have to open a checking account at a second chance bank. We have collected the best offers in our article '35+ Top Banks That Don't Use ChexSystems'. But even though there are some great offers, in general, you will be served with limited options and will have to pay higher fees. In case you decide to choose this option, in other words, to be served by a bank that doesn't work with ChexSystems, you won't be improving your report.
With that being said, with a bad consumer report, you won't go to jail, but it will make you spend more time searching for banking services and pay more fees.

Are There ChexSystems Removal Services?
If you don't have enough time or just don't want to get involved in the dirty business of disputing, you might be interested in finding a service that can do the whole thing instead of you, on your behalf.
Although you can always hire a lawyer or another representative, it makes no sense. The thing is, an average attorney fee in the United States is $225 per hour.
Paying hundreds if not thousands of dollars for what you can do with your hands, makes no sense whatsoever. In case you are in a hurry and need fast results, the right thing you can do is dispute your report. As we have mentioned previously, in addition to supporting documents, you have to provide ChexSystems with a properly composed cover letter.
It will be considered an official document. Unfortunately, there are different life situations and different problems that require different letters. You don't have to be a professional writer, but still, it requires a certain amount of expertise.
In our ChexSystems Removal Kit, you will find all the letters you need to clear up your ChexSystems record, no matter what mistakes you have made, especially if you notice some mistakes and don't know what to do about them.
As for the question about ChexSystems removal services, we did thorough research and came to the conclusion that such organizations or private individuals don't exist. But demand still exists, people often want to solve difficult problems in an easy and effortless way.
What is a ChexSystems Freeze?
For those of you who care about your security, there is an option to freeze your consumer report at ChexSystems. This means that when you or anybody else applies for a bank account, they will be rejected.
ChexSystems freeze works great if you are sure that you won't change your bank in the near future, or you won't open a bank account for another reason.
To freeze your consumer report, go to a 'Place a Security Freeze' page at a ChexSystems website. You will have to fill out a special form and submit it.
Also, you can send a paper request. Get a free form, print it out, and after that mail it at the following address:
ChexSystems, Inc.
Attn: Consumer Relations
7805 Hudson Road Suite 100 Woodbury,
MN 55125.
What would you bother doing that? If you read CNBC or visit other financial websites, you may know that money laundering, selling empty and loaded with money bank accounts, wire transfer fraud, identity theft, and other crimes are pretty popular nowadays. According to Fool.com, there were over 1.3 million reports of identity theft in 2020. Just look at this graph and you will understand why lots of people have already frozen their ChexSystems report. At the end of the day, it's not forever. You can temporarily or permanently lift your freeze whenever you need it.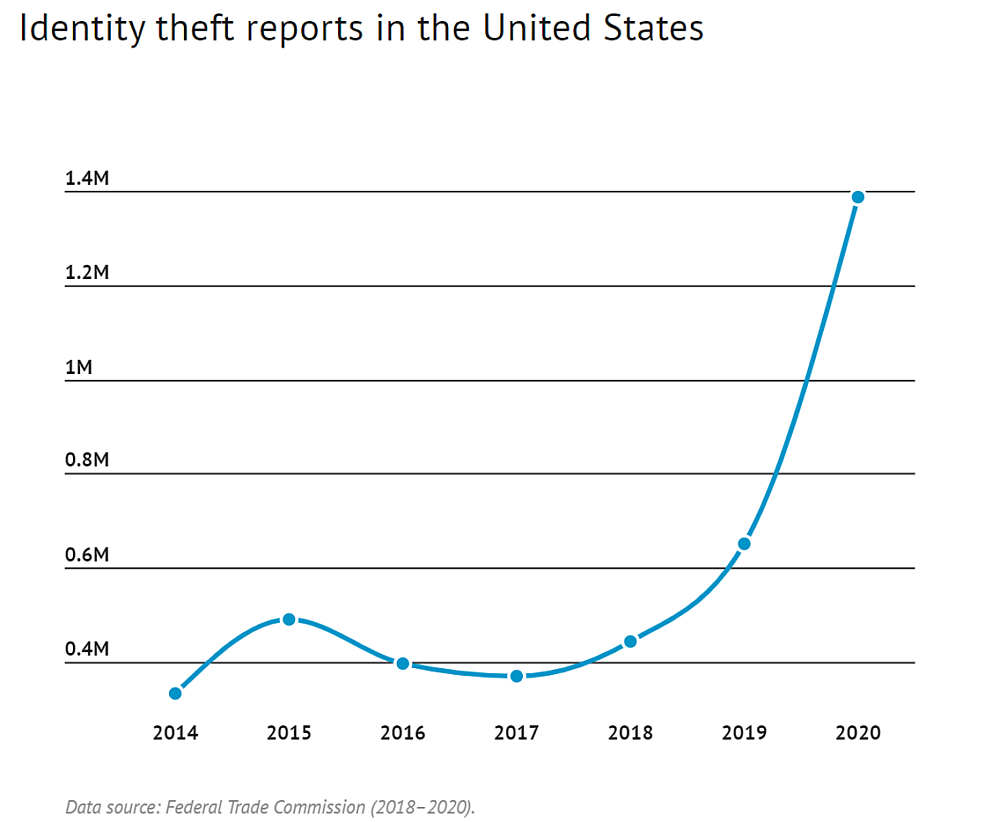 How to Always Have a Perfect Consumer Report
Being nervous about your consumer report is not the best idea, but taking care of your reputation is something you have been taught since childhood, isn't it?
Therefore, your financial reputation can and should be managed not by banks, ChexSystems, or other financial institutions, but by yourself. After all, ChexSystems is just a mirror that reflects what it has been provided with.
So, the most important step is to build the right financial discipline and follow simple and straightforward rules:
Request your free consumer reports every year to check what they contain. ChexSystems is not the only reporting agency. You have the right to request your report from TeheCheck, Early Warning Service, and other companies.
Don't be naive. It sounds a little childish, but if someone offers you to sell your empty bank account for a good price, don't even listen to them.
Make sure you know how much money you have in your account before you make a payment. Paying with money that you don't own is the biggest reason why people end up in ChexSystems jail.
Don't gamble with illegal checks. If you spend the check amount before the bank realizes it is counterfeit and debits your account for the full amount, this will result in an overdraft. Paying overdraft fees is not a big deal, but some people forget about that. Closing or freezing your account will be immediately reported to a consumer reporting agency.
File a dispute if necessary. This is not a lawsuit, there is nothing to be afraid of, it's simply your right. You can file a dispute either with your bank or with ChexSystems. But never do it in the first place. It's like suing your neighbor who uses his lawnmower at the wrong time. It makes much more sense just to talk to him and explain what is bothering you. The same goes for the bank.
Financial difficulties are no reason to hide. Some people cannot pay their debts on time, even if the fee is $20. It doesn't have to be a drama. Call your bank or visit its branch and talk to a bank clerk. Tell them what is going on in your life and how you're going to pay off your debt.
Frequently Asked Questions
How do I get my ChexSystems report?
Order it online, by fax, or by mail. Follow this link to get your FACTA Free Annual Report. It will arrive in five business days. There is no difference between ordering it online or offline. As a result, you get the same file.
How can I find out if I am on ChexSystems?
There are two ways. You can either request your report, or the bank will share with you why it rejects your application. In this way, it will inform you of the reason which is a low ChexSystems score. Once you know that you are in a ChexSystems database, you will have to take an additional step which is requesting your report. Remember, banks don't have your report, so you will not get it from them.
What does a ChexSystems report show?
It is a file that shows all items starting with unpaid fees and finishing with suspected fraud. You can also find the contact information of the organization that provided ChexSystems with information about your financial missteps.
How long do things stay on ChexSystems?
Five years starting from the report date. If the source of the information requests to remove the item from your report, ChexSystems is obligated to do that. This is a legal requirement. But that you have paid off your debt, does not mean that the bank will report it. Sometimes they do, sometimes they don't. It's your job to take care of your consumer report, so once you are debt-free, get in touch with the bank and ask them to send a notification to ChexSystems.
What banks do not check ChexSystems?
There are financial institutions called 'second chance'. This refers to both banks and credit unions. You can open a checking or a hybrid account (checking plus savings) with Chime, N26, or some others. Read our full review of second chance banks.
How do I get removed from ChexSystems?
Request your report to see what is wrong. After that, get in touch with the bank you owe and pay off your debt. The last step is asking the bank to notify ChexSystems. If something goes wrong or you notice an item that has mistakenly appeared in your report, start a dispute. You can dispute the bank that reported you and the ChexSystems.
What does ChexSystems check for?
Any past financial mistakes that banks and credit unions report. It simply believes them and adds to its database everything that is reported. This is the reason why a lot of people are looking for ways to clear up their consumer reports.
Can I see my ChexSystems report online?
Yes, you can. But not right now. Visit this page, request your report, and wait for five business days.
Bottom Line
Whether you know about it or not, you may have a ChexSystems report. This means a bank or a credit union you visit either online or offline to open a bank account, will see your score which will help it decide whether to serve you or not.
Having a report is not a bad thing. But to keep things under control, do not hesitate to request your free annual report and fix any mistakes as soon as possible. In case there are any mistakes, you can always get in touch with your bank or start a dispute with ChexSystems.
References