What is ChexSystems Freeze? Should You Freeze Your Consumer Report?
Daniel Long
Updated Sep 15, 2021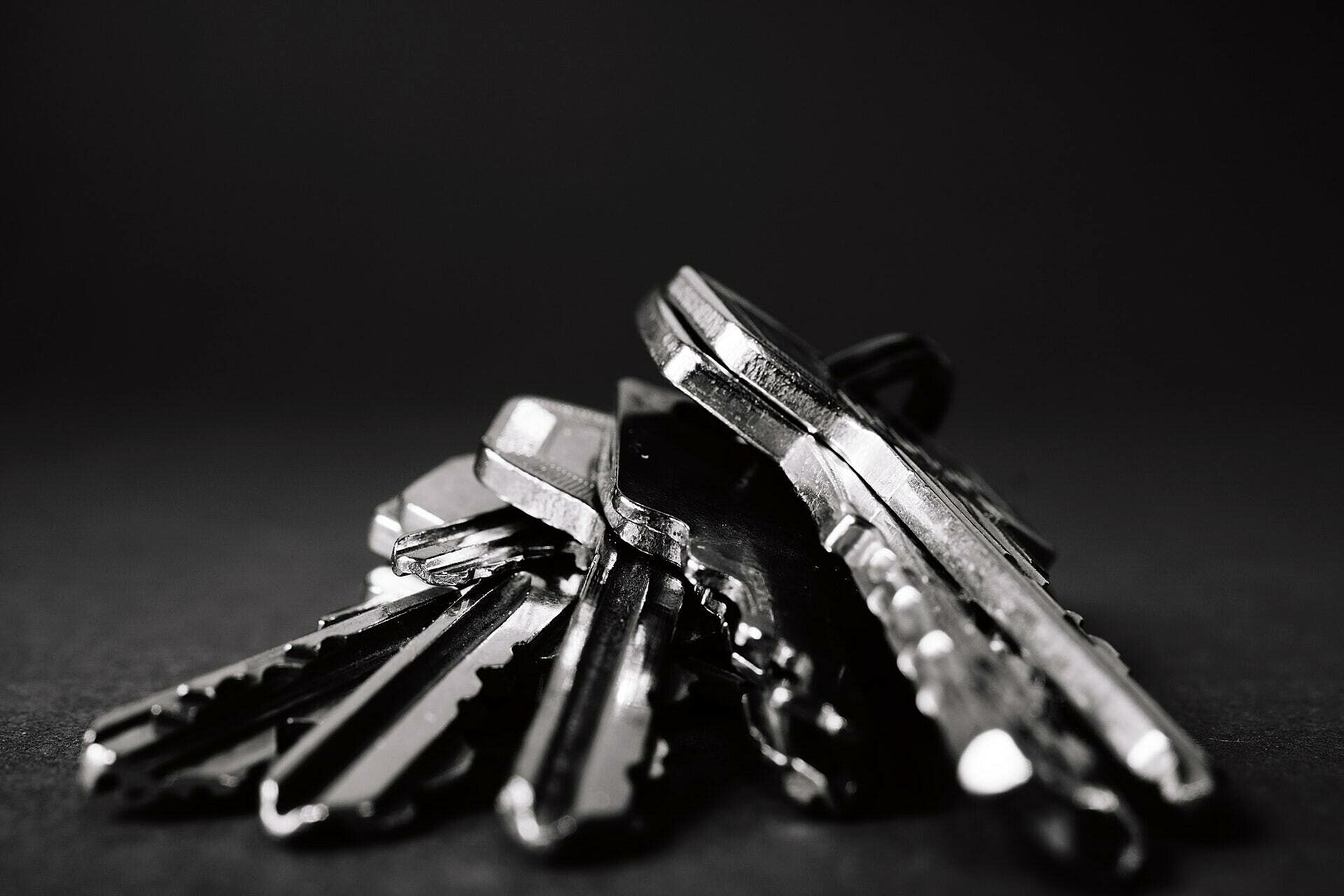 Why You Should Place a Freeze on Your ChexSystems Report
When you open a checking account, there is high probability (actually 4 in 5) that a bank or a credit union will query the ChexSystems database for any previous mistakes you made when you have been served by other financial institutions. Only bad data is saved in your report. That's obvious. They know it, and that's exactly what they're looking for. They don't expect you to be perfect, they just want to know exactly what you are guilty of in order to protect themselves. It's common practice and there is nothing to be worried about.
ChexSystems was founded back in 1971, and since then it has helped American banks and credit unions make countless decisions whether to approve or deny customer applications.
When a financial institution queries the ChexSystems database, there are three possible scenarios right after that:
If your report does not contain a large number of bad records, you are likely to be approved for a bank account.
If your report has many bad records from banks and credit unions that have served you before, the bank may deny your application.
If no records are found in your report, it means that you have didn't make any missteps that the financial institutions could have reported to ChexSystems.
With that being said, it's pretty obvious that the worst thing that can happen to you is to have your request denied because of a bad ChexSystems report.
Right? Wrong!
There is yet another much worse scenario!
According to a recent study conducted by FTC, account opening fraud (known also as new account fraud or online account origination fraud) is getting more and more popular year by year.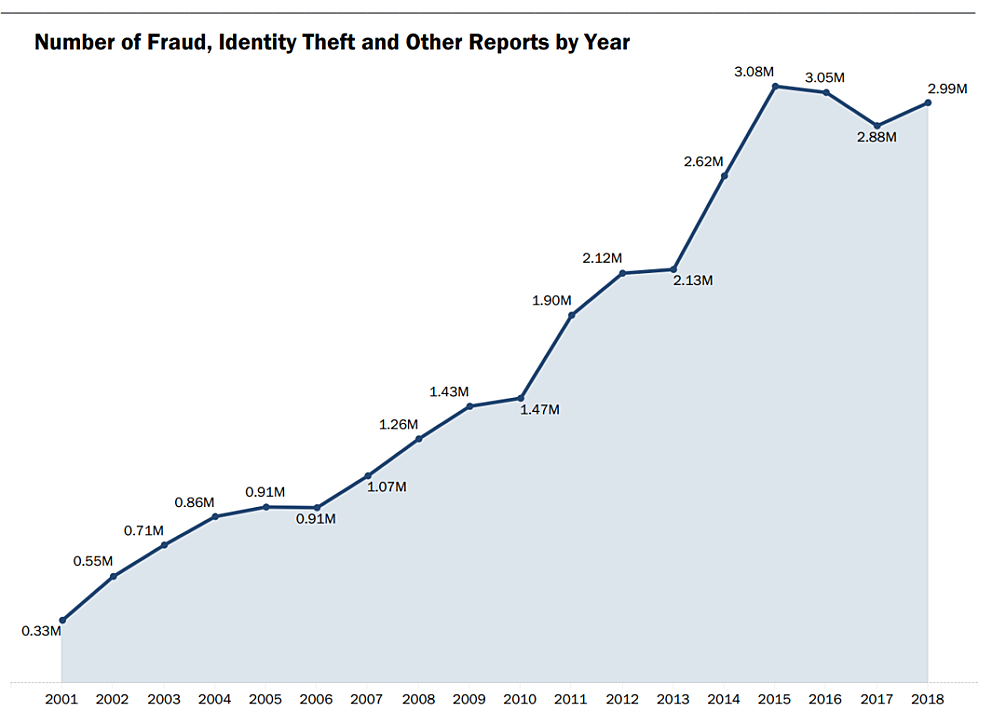 The real problem is that new account fraud is hard to stop. Fraudsters may use bank accounts for three months. After that, they just disappear into thin air, leaving you with a screwed-up banking history, fees to be paid, and possibly legal problems.
How Fraudsters Can Use Your Bank Account
Imagine a person comes to a bank and requests to open an account. In your name!
For one reason or another, the bank employee thinks the cheater and you are the same person. They query the ChexSystems database, open an account and this starts the ball rolling. A month later you find out that your account is being used for fraudulent activities.
If you think it's all unrealistic and unlikely, then you should know that according to Deposit Account Fraud Survey conducted by American Bankers Association, in 2018, fraud against bank deposit accounts amounted to over $25 billion.
Another survey by the Insurance Information Institute shows that in 2019, almost 14.5 million consumers became victims of identity fraud. That's about 1 in 15 people!
Needless to say, a fraudster does not need to go to a bank branch to open a bank account. He can stay at home and use a VPN connection. Or he can even reside in India, Pakistan, or any other country that is thousands of miles away from the United States!
So, should you place a freeze on your ChexSystems report? Well, you decide!
How Do I Freeze My ChexSystems Consumer Report?
You have three options:
submit an online form,
send a paper letter with a paper form,
call by phone.
In the end, you get the same result: you freeze your report, in other words, you protect your report from checking by financial institutions when someone, including yourself, applies for a bank account.
The easiest and fastest way is to use the official website to submit an online application.
To freeze your ChexSystems consumer report online, visit ChexSystems official website - https://www.chexsystems.com/
Navigate to a 'Place a Security Freeze' page
Fill out the form and submit the information.
Also, you might be willing to send a paper request. Follow the link, fill out the form, print it out, and mail it at
ChexSystems, Inc.
Attn: Consumer Relations
7805 Hudson Road Suite 100 Woodbury
MN 55125
The form looks like this:
Yet another option is to call (800) 428-9623 or (800) 513-7125 and follow the voice message system instructions.
Reaching a real person is quite a challenge. But you don't really need it!
Advantages of Placing a Freeze on Your ChexSystems Report
You may not even know how sneaky the scammers are. According to USA GOV, if they gain access to your personal information and bank account, they will have many opportunities:
Money laundering – after charging large amounts of money (obtained from crimes), the criminals need a way to cash it out. If they open a bank account in your name, 'dirty' money appears legitimate. The new age money laundering technique is to accept payments via Bitcoins and other cryptocurrencies and then exchange digital money for real dollars using exchanges or exchangers.
Selling both empty and loaded with money bank accounts. You might be surprised, but there is a price for your bank account. You've read it right! Your bank account costs something! And this 'something', as ZDnet has found in their research work about the Dark Web, is between $200 and $1,000. In case it's empty, the price is a few tens of dollars.
Accepting payments – after the fraudsters have been issued a payment card that is attached to your bank account, they can start accepting payments for fraudulent activities. This refers to phone bank fraud, invoice fraud, online banking fraud, APP scams, etc.
Wire transfer fraud –fraudsters can send wife transfers not only within the United States but from one country to another. After they disappear, this will lead to lengthy investigations, with your name appearing in the end.
Disadvantages of Placing a Freeze on Your Report
While in certain circumstances it does make a lot of sense to place a freeze on your consumer report, there might be some drawbacks.
For example, as you may know, from time to time banks hold different promotions to attract new customers.
It may be that you don't like your old bank for one reason or another. Or maybe you simply encounter the unavailability of online banking and decide to switch to another option. Maybe the mobile app is too heavy or complicated. Or everything is fine and you just need yet another bank account.
Either way, it's your right to switch accounts, close them, and open new ones.
Given that about 4 out of 5 U.S. banks work with ChexSystems, there is a good chance that before opening a new account, the new bank will query the ChexSystems database to get information about you.
A frozen report will automatically equate to a denial of account service. In other words, you cannot open a bank account while your report is frozen.
Also, placing a freeze on your ChexSystems report is not a good choice for professional freebie seekers – those who open bank accounts to get bonuses. There is nothing wrong with doing that, but as we have previously stated in our article 'What is ChexSystems? Are You Blacklisted?', 'extra money seekers' opening multiple accounts, may face another issue, which is too many inquiries. That's not very good either.
But still, look at the August bank offerings collected by Bankrate. It's not easy to resist the temptation. And after all, there is nothing illegal in taking advantage of one of the following opportunities.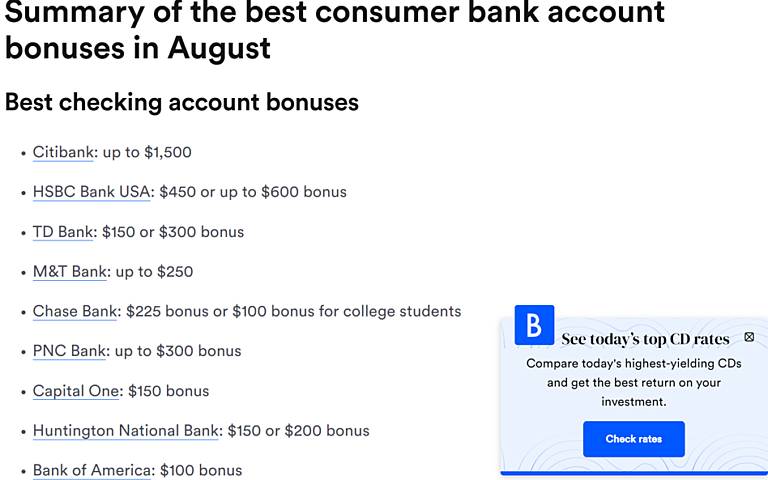 What if I Have a Negative History?
Initially, an opportunity to freeze your report is designed for customers who do not have any problems with the banks and do not have negative records.
If you do have negative marks, ChexSystems retains the right to release the information even if you freeze it.
In other words, 'freeze' doesn't mean 'actually freeze'. You can find plenty of evidence of this awkwardness on the Web. Consider one of them: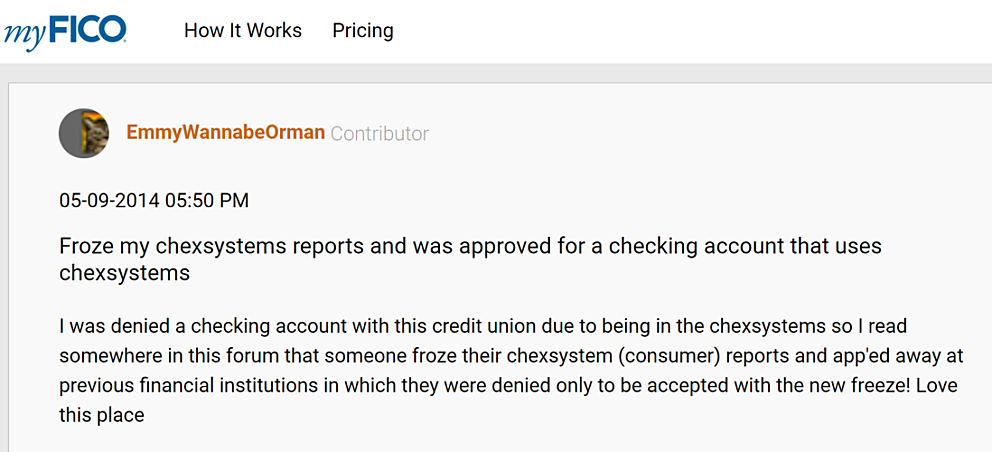 Freezing your consumer report is one thing, cleaning it up – quite another. These are different actions designed for different purposes.
Worth mentioning, when it comes to scams and other illegal activities, both reliable and unreliable customers are in danger. But those who take proper care of their finances, pay off their debts in time, request their reports, and check if everything is okay, have a huge advantage. They can freeze their reports and they will be frozen.
Customers who have bad marks can also freeze their reports, but there is a good chance that they will experience what you've just seen on the screenshot above.
Is ChexSystems Freeze the Same as Credit Freeze?
No!
A credit freeze is designed to prevent banks, credit unions, and other prospective creditors from accessing your credit line. It has nothing to do with your ChexSystems report.
A person may have a lot of problems with credit cards and paying their debts, but be a diligent customer when it comes to managing his or her own money.
To freeze your credit report, you have to get in touch with Equifax, Experian, TransUnion, and other credit reporting agencies.
In case you're worried about your bank accounts, place a security freeze on other reporting agencies:
LexisNexis – this company provides various types of data. To request a security freeze, follow the link and fill out the form. Depending on the state, the price ranges from $0 to $10. Also, you can send a paper request. To do this, follow this link, fill out the form, print it out, and mail it at
LexisNexis Consumer Center
P.O. Box 105108
Atlanta, Georgia
30348-5108
EWS (Early Warning Services) – a consumer reporting agency that works very much like ChexSystems. To freeze your EWS, follow this link. Pay attention, there are multiple reviews on the Internet about Early Warning Services refusing to freeze reports.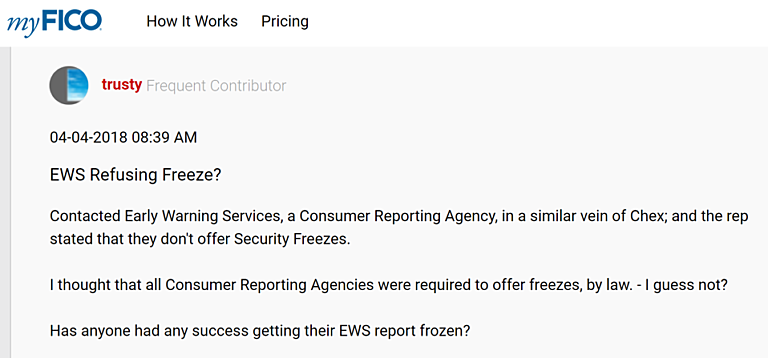 TeleCheck is another consumer reporting agency that works with banks, credit unions, stores, and other institutions. Get in touch with TeleCheck by following this link, or call 1-800-540-2505.
How Much Does It Cost to Freeze My ChexSystems Report?
It's free. The same applies to Innovis.
In case you're interested in freezing your credit reports at Equifax, Experian, or TransUnion, be ready to pay up to $30 per person (depending on the state).
Hypothetically, you can freeze your consumer report right after you've opened a bank account and unfreeze it before you need to switch or do something else. But pay attention it's not like turning the lights on and off. The thing is, when you freeze your report, you will receive a letter. It contains your PIN (unique personal identification number).
You will need it to change or remove personal identifying information, apply for a temporary lift and perform other specific actions.
Can I Open a Bank Account if I Freeze My Consumer Report?
Yes, there are a lot of banks that don't use ChexSystems. We mentioned them in our article - 35+ Top Banks That Don't Use ChexSystems.
There are some big brands out there such as BBVA, Chime, TD Bank, TCF Bank, and some credit unions. But it is never a good idea to restrict yourself from opening a bank account at a "regular bank" if you qualify.
Remember, you can freeze your ChexSystems report, but that doesn't mean that you are not at risk. Scammers are quite sneaky and cunning but this is not the reason to avoid using banks. At the end of the day, even if your bank account is scammed, it is definitely not your fault. No law or rule is requiring you to freeze your report. It's just an opportunity for those who are already happy with the way they are treated at their bank and are not looking for a better option.
Frequently Asked Questions
What happens when you freeze ChexSystems consumer report?
This will prevent you from opening new accounts at banks or credit unions. Identity thieves won't be able to use your information to open bank accounts for conducting illegal activities such as overdrafting or money laundering. No one will open a fraudulent bank account in your name and then transfer money from other accounts to that fraudulent bank account and vice versa.
How do I get off ChexSystems freeze?
If you'd like to remove your security freeze, submit your online request or call ChexSystems Consumer Relations by phone at 800.887.7652
Can you be removed from ChexSystems by freezing it?
No, you can't. This option is not designed to remove bad marks. What it does is just prevents banks and other financial institutions from checking your banking history. If your goal is to be removed from ChexSystems, you will have to report a dispute. The best option to deal with bad marks is to request your free report, learn what is wrong, and pay off your debts.
Is freezing my consumer report a good idea?
It depends on your goals and needs. If you tend to switch bank accounts, or you're about to open another bank account in the near future, don't freeze your report. But if you are sure that you will be happy with your existing bank account, and you're willing to prevent yourself from possible difficulties, just freeze your report and remember that you can temporarily or permanently lift your freeze.
Can ChexSystems freeze my account?
It can, but it won't unless you ask it to. The company cannot take any action on your account. Its job is only to provide data and help banks make their decisions. It's always the customer who decides whether to freeze, or not.
Can I freeze my LexisNexis report?
Yes, you can request your security freeze electronically, by U.S. mail, or by phone. To get started visit the following page.
How long does ChexSystems stay on your record?
Five years. But if you are thinking of freezing your ChexSystems just to wait for five years and clear your history that way, it won't work. Different reviews that we have found on discussion boards and social media show that having bad marks can prevent you from freezing your ChexSystems. Technically, you will send your report and freeze it, but in reality, in some cases, banks will still be able to check your history.
Bottom Line
If you would like to protect yourself from unexpected difficulties and stop worrying about your bank account security, there is a legitimate way to do this. Just freeze your ChexSystems consumer report and remember that you can unfreeze it whenever you need it.
It's free, easy, and designed especially for law-abiding customers.
References